Promotion with a grid of sites - how to build PBN
When a project owner in an overheated niche or a webmaster with the task of bringing a site to the top in a competitive topic hits the ceiling of standard promotion methods, they usually start looking at gray methods, including PBN. We have briefly summarized the pros/cons and listed the steps that you will face when creating satellite sites.
PBN (Private Blog Network) - site grids. They are created in order to receive a controlled and shareware external link mass to promote the main site (its individual pages). Domains for PBN are bought at auctions or take dropped domains (the registration of which was not renewed or the site was abandoned for any other reason).
This is a convenient, but dangerous and expensive way to get links to your resource. PBN is not a panacea and only works in combination with other optimization tools. That is, if the site and the goods on it are shit, then a private network of blogs will not help. Or help, but not for long.
If the site you promote or own doesn't need links, you're already at the top of the high-frequency queries - cheers and keep it up. If you constantly have to balance and stay in the search results in a high position or you want to appear in the search results with an expanded snippet, you most likely cannot do without PBN. But this:
Long: searching for a domain with a history, checking the history (did the site change its theme, how often and how far from what you need), searching for thematic and closest related sites, checking the link profile of the site, researching to find it in blacklists .
Then, if everything is in order, the creation and implementation of the design (it should be different for all grid sites), content filling (read: creating technical specifications, searching for writers, agreeing / approving texts, uploading content). Oh yes, one article will not be enough. We start from 5-10. For a single grid site. And such sites should be created from 10.
And the link weight will also not come immediately, after setting the link and indexing, you need to wait about 2-3 weeks to get the donor weight.
Expensive: All of the above work is not cheap. It is relatively inexpensive to order such a service from a team of specialists, where all stages and actions are evenly distributed among people and the work is streamlined. Plus, teams, as a rule, have all the necessary tools: paid programs and services for finding and analyzing resources.
The more competitive the topic, the more difficult and expensive it is to buy a domain.
In addition, the team on the customer's side should have their own SEO experts (mandatory in the state), who will be able to support the grid in the future. This is not easy and requires compliance with various security measures. For example: work with each network site from a different IP address, ideally not have Google services on your work computer and / or work in incognito mode, and so on. This also includes spending on the gradual filling of such sites with content, optimizing old content.
Stress, a lot of stress: the constant fear that someone (competitors or Google itself) will burn the grid, and you will lose everything at once: PBN, links and fall under the filter of search engines.
When there are so many arguments against, does it really make sense to build satellites? If the site is already working on outreach, buying links on stock exchanges, then with a competently and high-quality grid, you get a "fat" link mass. Especially true for overheated niches.
This is an effective promotion method for sites and topics where it makes sense/important to promote for high-frequency queries and such queries are in the top 30 of your subject.
In addition, PBN, when working correctly, is a chance to really control the link profile of your site. You know for sure that no one will suddenly delete the link, the site will not be demolished, you yourself maintain the quality of the resource.
You can also change links to relevant pages of the main site, relink within each grid site, and by boosting this or that article from the donor site, increase the weight of the link on the main resource.
In addition, donor sites either fully correspond to your topic, or are relevant to individual pages, overlap tightly by topic or niche.
If you fill each site with unique and useful content, take care of the markup, then it is not at all important for grid sites to create a unique design.
Quality links with PBN can only change when the search engine algorithms change.
To find out if your competitor is using drop domains, use the Serpstat report. It shows domains that fully redirect to the analyzed site. For each drop, Domain Rank is displayed - an indicator of the authority of the site. With the help of redirect domains, you can more accurately analyze your competitor's link mass and adjust your strategy.
Important: all the advantages of a private blogging grid are possible only if you have a team and resources capable of supporting and developing it. You can't just take and once and for all hide the connection of the grid with one owner. Optimizers will have to cheat Google regularly.
The more competitive the topic, the more difficult and expensive it is to buy a domain.
Social network
These PBNs are created on popular blogging platforms (LiveJournal WordPress.com, Blog.com, Tumblr, and more). They are effective in promoting low-competitive niches.
This is a relatively fast and cheap way to create a mesh. What do you need:
make a website or blog of the desired subject on free resource (free website builders to help you);
fill out the profile in detail with believable information;
collect the semantic core;
fill in the content and put links to the main resource.
Important: all sites on blogging platforms differ in style, design, and even sometimes tone of voice. Of course, the information in the profiles is different and cannot link each grid blog site to the same owner. Links from the content lead not only to the owner's website, but also to other trust resources. In addition, links lead to more than one page of the main site (for example, not only to the main page, but also to a blog article or partner page).
Links are organically embedded in the content.
Remember, content is everything. These should be useful articles, reviews, notes. Valuable are those links that lead live and interested users.
Cons of this network: it is labor-intensive to find a domain with a good history - hence the weight of the link is also in question.
Refurbished PBN
We are talking about sites restored from the web archive. It's also a lottery. Here there is a risk of getting to a site that is not indexed, is under a filter or is blacklisted by search engines.
Niche Grid Sites
Sites that are sold by the owners. Resources close or relevant to the subject of the main site. They have a good history, a certain number of pages of such sites are already indexed. These are sites with traffic, so there are no sanctions on them. Such resources have backlinks, which means that the weight of links established from them will be greater.
All three types of PBN can be used to build external link mass, but the niche network is considered the most effective.
The domain is the basis of PBN, it is important to find a domain that already has a good link mass to transfer to our site.
Expired - expired domains, you can buy such domains at the registrar's price. To find the lowest price, use aggregators.
Auction — at this stage there is an opportunity to buy the best domains. The bottom line is simple, when the domain registration date expires, all market participants have the opportunity to compete for the domain in the auction mode. If the domain is not renewed by the current owner and your bid is higher than the rest, you will get the domain. The price range is up to tens of thousands of dollars per domain.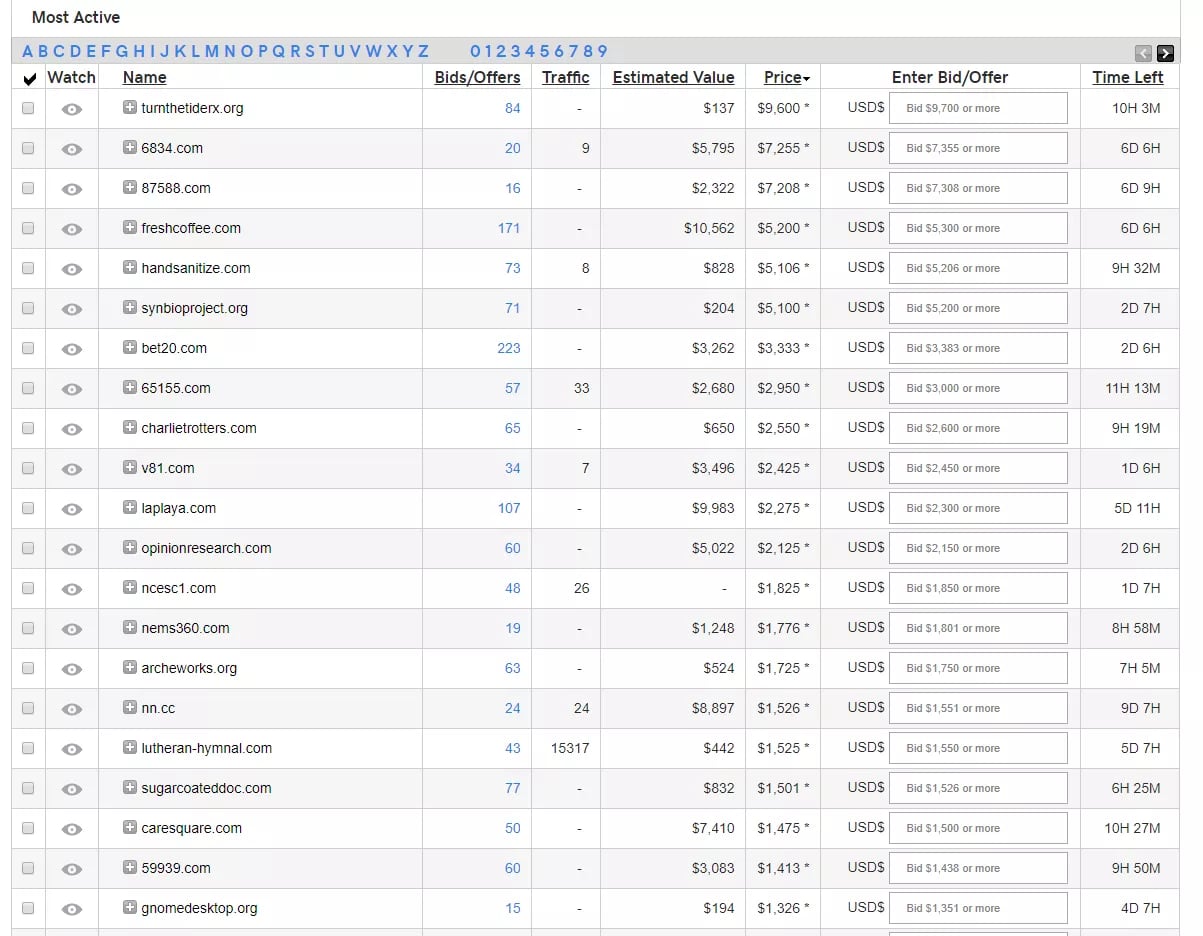 Auctions
Each auction or backorder service has its own lists of domains that are bidding today. You need to upload them and check if they match your criteria.
pros
a good chance to get the fattest domains at the right price.
Minuses
the approach works only in automated execution;
high cost of process automation;
Serpstat, Ahrefs, Majestic, Similarweb, Moz APIs are needed.
Where to look for domains
Services
In this case, you give all the processes for searching domains to services. Pay a monthly fee, and the services throw off domains with all the necessary characteristics. You need to check the domain again for spam yourself and place a bid.
pros
convenience, you do not need to think about how to set up the process from search to data aggregation;
updated dashboards;
each service has its own perks, for example, domcop.com gives you access to a site varser.
Minuses
domains are visible to both you and your competitors in the niche;
services do not always give away all domains that can actually be bought;
sometimes give incorrect data about the domain.
Examples
expireddomains.net;
domcop.com;
bluechipbacklinks.com;
expired.ru;
spamzilla.io.
Search for expired domains
There are many techniques for searching domains, but if you write in general terms, the essence is to parse the entire Internet and find expired domains with the characteristics you need.
pros
Minuses
a time-consuming, low-emission method;
you need a tool for determining the availability of domains for purchase;
we need large limits on the API of Serpstat, aHrefs, Majestic, Similarweb, Moz services.
Contractor Services
Here they will do all the work for you, but still check what they give you. Necessarily see historydon't take my word for it.
pros
you do not need to understand how it all works - saving your personal time.
Minuses
you have no control over anything;
you can be deceived;
the price is higher due to the contractor's commission.
We figured out the domains, what's next?
Finding content for a grid of sites
Depending on the goals of PBN, you can fill the site with the necessary materials. Content can be not only text, it can be pictures, videos, games, goods, restaurant menus, data aggregators, in general, anything. Therefore, make PBN according to your theme. If you have a gaming site, then it may be worth making a fake game store, or a browser game.
You can order the writing of texts according to semantics, make the correct structure of the site and organize thoughtful linking. Spend 200 hours building 10 websites. And as a result, only the main pages of sites will be in the index. Yes, there are risks.
You can also generate content through articleforge.com or talktotransformer.com and everything will be fine, even get into the top 30.
Basic list of ways to create text content
search for thematic text in web.archive.org;
translation of texts from related languages (Ukrainian - Russian, German - English);
text generation;
writing texts;
take subtitles for youtube videos / transcribe audio and video content.
Create a website and deploy on hosting
In short, what needs to be done: raise the site and not get burned on a dozen footprints that the sites are interconnected. There are a lot of footprints: contacts, domain owner, IP, NS server, site CMS, domain registration date, templates, identical pieces of code.
There are also a lot of grid hosting approaches.
1. If you don't have time for hosting/server management (or this is a small test), then use the services of special services like PBN HOSTING or Easy Blog Networks. Such services make accounts on different registrars.
But there is a very big minus: your neighbors can be the same PBN or - you do not control your sites, you depend on services.
2. You can upload all sites to one server and set up proxying, for example, through Cloudflare.
3. There is a more reliable way to hide footprints: create dozens of accounts on different hosts and host sites there. But you must admit that keeping records and supporting even 10 hosters requires the efforts of a specially trained person. If in doubt, see how it's done:
Site network management
And most importantly, when building a grid, you need to understand who is responsible for what. If you make 10 sites, there will be no big problems. But if you are already creating 50, think about what moments you need to control:
financial Accounting;
maintaining a register of all projects;
filling sites and working with them, so as not to burn the grid;
organization of team management;
setting KPI;
results tracking;
storage of all necessary data;
analytics.
There are actually a lot of questions - and we are preparing an article on how to organize PBN construction management. And if you don't have time to wait and figure out how to build PBN and boost your site's link profile — contact our specialists.